How Are You Using the Portal?
We're hearing lots of great examples of how the Portal is being used to make decisions, solve problems and improve projects throughout the Mid-Atlantic. This page will share some of these case studies so they may provide guidance and food for thought for others' work. Please check back periodically for additional stories.
Use Examples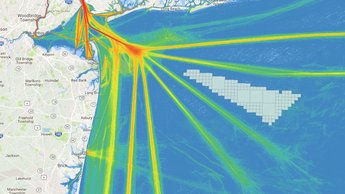 The Portal recently served as a centerpiece in a course for New York K-12 teachers dedicated to the Hudson Canyon's critical importance as a natural and economic resource. Fact Sheet
Officials in the tugboat and barge industry are using the site to plan new routes that will steer safely clear of planned offshore wind areas in the Mid-Atlantic region. Fact sheet | Ocean Stories feature
The U.S. Coast Guard is also using the Portal to help guide discussions and show maritime industry stakeholders how they prepare for the new infrastructure at sea. Fact sheet | Ocean Stories feature

How are you using the Portal? Have an interesting story about how our data helped your organization? Let us know at portal@midatlanticocean.org.
Share this story