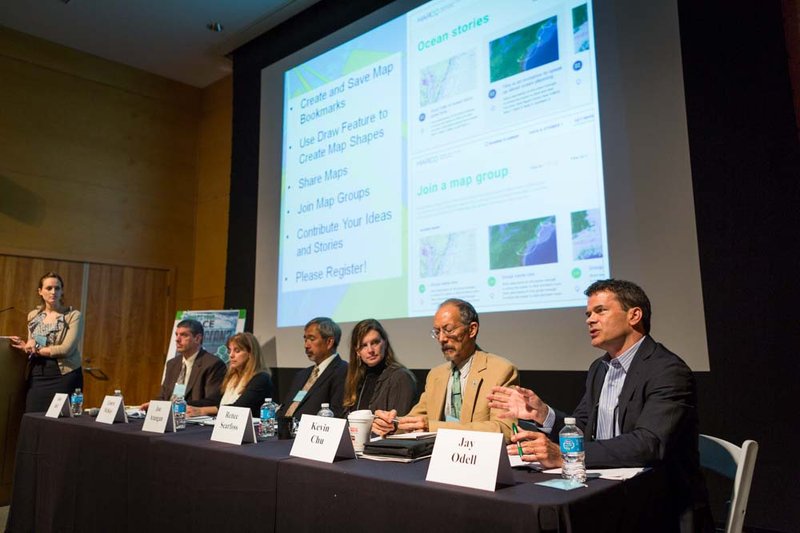 MARCO and the Portal Project Team
With competing demands on our oceans at an all-time high, finding ways to engage all stakeholders in coastal and marine planning has never been more important. The Mid-Atlantic Regional Council on the Ocean (MARCO) recognizes that a robust ocean data and information management system that includes a wide range of human use, environmental, socioeconomic and regulatory data will provide the building blocks for multi-use, regional-scale ocean planning.
The Portal serves as a platform to engage all stakeholders in ocean planning from the five-state Mid-Atlantic region—putting essential data and state-of-the-art mapping and visualization technology into the hands of the agencies, industry, and community leaders. The Portal is maintained by a team consisting of the Monmouth University Urban Coast Institute, Ecotrust, The Nature Conservancy and Rutgers University's Center for Remote Sensing and Spatial Analysis under the guidance of MARCO. It was developed with grant support from the Gordon and Betty Moore Foundation and the National Oceanic and Atmospheric Administration (NOAA).
Data featured on the site comes from a combination of sources, including key federal providers such as MarineCadastre.gov (a collaboration of NOAA and the Bureau of Ocean Energy Management), the Coast Guard, the U.S. Fish and Wildlife Service, the Department of Defense and the Environmental Protection Agency. Data has also been produced through partnerships with nonprofit organizations and the private sector, as well as through research projects led by Portal Team members. The Portal Team also is coordinating with the Mid-Atlantic Regional Association Coastal Ocean Observing System (MARACOOS), which provides real-time oceanography data via its OceansMap, to create maps at a time and scale appropriate for regional planning.

The Portal will continue to grow and evolve to respond to stakeholder needs and current regional planning/policy issues and trends. For more information, watch our video tour of the Portal below or download our fact sheet.