Acidification Monitoring Locations Now on Marine Planner
Find out where ocean, coastal and estuarine acidification is being monitored throughout the Mid-Atlantic on our new map in Marine Planner.

The Acidification Monitoring Locations map, found within Marine Planner's Oceanography theme, shows thousands of sites where acidification parameter water sampling is currently being or has been conducted in the Mid-Atlantic. The map will help inform the work of the Mid-Atlantic Coastal Acidification Network (MACAN) and Mid-Atlantic Regional Planning Body (MidA RPB) as they develop a robust network that monitors for changes to the region's water chemistry. Building this network was a key priority identified in the Mid-Atlantic Regional Ocean Action Plan, enacted in December.
Four types of locations are shown on the map: sites that are being continuously monitored; sites were one-time samples were taken during cruises; fixed stations that collect data on an ongoing basis; and the sites of former fixed stations. Users can click on any of the individual points for a pop-up with information about the location, the organizations collecting data and the types of information gathered.
The map does not contain the monitoring data itself, but does link to the data where possible. Ultimately, the map will identify gaps in the areas being monitored and the types of data being collected.
Ocean acidification is being driven by increased levels of carbon dioxide dissolving into seawater, increasing its acidity and lowering its pH. Scientists believe the Mid-Atlantic region may be especially vulnerable to acidification in its coastal waters, where high nutrient levels and rapid growth of plankton further reduce pH. OA causes organisms to expend more energy to regulate their body chemistry and reduces the availability of calcium carbonate, which corals, clams, oysters, lobsters, and other species require to build and maintain shells and skeletons.
The map will be updated as additional information about monitoring sites emerges. If you have information that you believe should be included in this map, please contact info@MidACAN.org.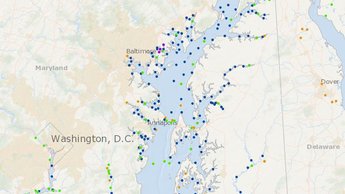 Share this story