Coast Guard Seeks Comments on Recommendations from Port Access Route Studies
The Coast Guard is seeking public comment on an update to its Consolidated Port Approaches and International Entry and Departure Transit Areas Port Access Route Studies (CPAPARS). The CPAPARS includes a series of recommendations and alternatives for shipping lanes, anchorages and other routing measures from the coasts of Rhode Island to Florida, which can be viewed with a new map layer on the Portal.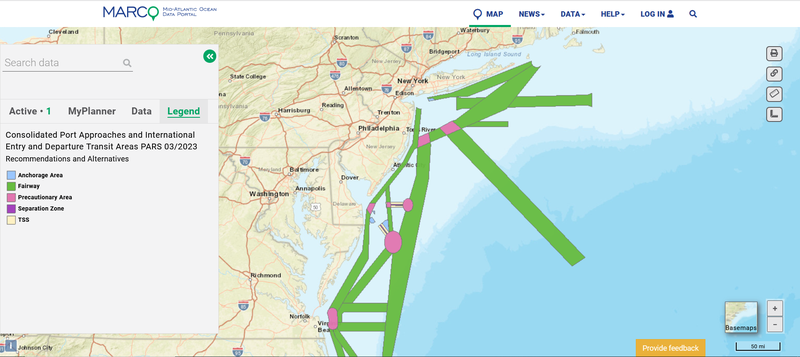 In 2019, the Coast Guard initiated a series of port access route studies (PARS) focused on major ports along the Atlantic Coast. These new studies supplement and build on the Atlantic Coast Port Access Route Study (ACPARS) completed in 2017. The studies gathered a wide range of data and stakeholder input on future maritime commerce trends, Coast Guard missions, potential conflicts with offshore wind projects, port infrastructure changes and many other factors to evaluate the adequacy of existing routing measures and determine whether additional ones are necessary to safely accommodate vessel traffic. The reports recommended new shipping lanes designed to connect the ports to a broader network of fairways proposed by the ACPARS that extend from New England to Florida.
In September, the Coast Guard announced the availability of the CPAPARS, which summarized the findings of four regional port access route studies conducted from 2019-22 covering the Northern New York Bight, New Jersey coast and Delaware Bay approaches, Chesapeake Bay approaches, and the North Carolina coast. Through continued engagement with stakeholders and the maritime industry, the Coast Guard was notified of two erroneous graphics published in the report. Additionally, stakeholders sought clarification on some fairways adjustments and requested the opportunity to provide comments. The CPAPARS update corrects the graphical errors, amends certain recommended fairways, provides additional explanation of the recommendations, and provides a 90-day comment period.
Comments must be submitted to the online docket on the Federal Register by June 8, 2023. The updated CPAPARS has been uploaded to the docket and the Coast Guard Navigation Center website for public review. Questions about the report may also be emailed to maureen.r.kallgren2@uscg.mil.
The CPAPARS map layer can be found in the "USCG Proposed Areas and Studies" dropdown in the Portal's Maritime theme. In the same section, users can also find the Port Access Route Studies (PARS) Areas map layer showing the four study areas in the Mid-Atlantic as well as a map layer showing a PARS study area in the Gulf of Maine.
Users can click any of these areas on the map for pop-ups containing links to their Federal Register notices and documentation. It is recommended that Portal users also activate the Routing Measures map layer in the Maritime theme or use the Nautical Charts basemap to view connections between the PARS proposals and existing traffic lanes, fairways, separation zones and precautionary areas.
Share this story