Discover History on the Ocean Floor with Wrecks & Obstructions Map
Scan the Mid-Atlantic for cargo ships sunk by German U-boats, vessels long last at sea and other mysteries of the deep with the newly added Wrecks & Obstructions map in Marine Planner.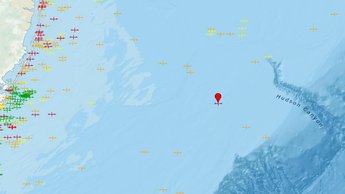 First published on MarineCadastre.gov, the map reveals the locations of thousands of sunken vessels and other obstructions that are considered navigational hazards within U.S. coastal waters. Data is compiled through the National Oceanic and Atmospheric Administration's Automated Wreck and Obstruction Information System (AWOIS), which is updated periodically to reflect new information. Beyond its importance for navigational safety, AWOIS data is a resource for marine archaeologists and historians, fishermen, divers, salvage operators and others in the marine community.
Portal users can click on any icon on the map for a popup message containing a brief summary of available information. This includes basic details about what the wreck or obstruction is, when and how it was discovered, when it was sunk (if a vessel), coordinates and more.
The icons are color-coded to indicate the level of confidence in the accuracy of the location presented in the map. Most differences between the actual and estimated positions of wrecks on the map are minor, and due to having been originally recorded before the availability of today's more precise digital technologies.
Users should note that the map is not a comprehensive record of wrecks or obstructions in any particular area. Historical research is constantly being conducted to improve the quality of the data, but it will never completely address every known or reported wreck or obstruction.
The Portal also contains a Wrecks & Obstructions Density Per OCS Lease Block map, which is based on the same AWOIS data. The map indicates the number of wrecks and obstructions located within each roughly 9-square-mile Outer Continental Shelf (OCS) Lease Block area created by the federal Bureau of Ocean Energy Management. Dark purple squares indicated areas with several wrecks while white ones show areas where none have been recorded.
Share this story