Maps Track Balloon Litter and Marine Debris Found in MARCO Beach Sweeps
Three new map layers in Marine Planner provide a snapshot of the prevalence of balloon litter among the many types of marine debris found on beaches throughout the Mid-Atlantic.
The maps mark six locations throughout the region where the Mid-Atlantic Regional Council on the Ocean (MARCO) initiated recurring beach cleanups beginning in 2016 and recorded how many pieces of balloon litter and other plastic trash were recovered. Users can click any of these mile-long sites on the map for a pop-up showing statistics for each month or season when collections took place, as well as the total amount of marine debris collected in each location. The sites surveyed include:
Virginia: Fisherman Island
Maryland: Assateague Island
Delaware: Kitts Hummock Beach and Delaware Seashore State Park
New Jersey: Island Beach State Park
New York: Jones Beach State Park
Balloons are unique among the man-made litter and debris found in the ocean and along shorelines because people often purchase them with the intent of releasing them into the environment. Although a growing number of cities and states have banned organized balloon releases, people still frequently hold them at memorials, celebrations and other events, unaware of the deadly hazard they pose once they descend to the surface.
Plastic ribbons on balloons can entangle wildlife and many marine animals are prone to consume balloons when they mistake them for food (such as jellyfish), resulting in malnutrition or death. A survey of experts by The Ocean Conservancy ranked balloons the third-deadliest among marine trash types to seabirds, sea turtles and marine mammals, behind only derelict fishing gear and plastic bags/utensils.
As a companion to the interactive maps on the Portal, MARCO and the Virginia Coastal Zone Management Program (CZM) have created an educational story map that explores the issue of balloon litter in the coastal and marine environment and provides information about each of the survey locations. To view it, click here.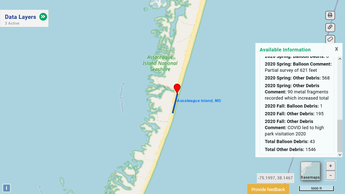 Remote Beaches Chosen for Survey
From 2016-19, volunteers participating in the International Coastal Cleanup reported nearly 30,000 littered balloons in Mid-Atlantic states and data indicated that balloon litter accumulated more on ocean beaches than on inland cleanup sites. This is likely because prevailing winds carry balloons from west to east out over the ocean and then ocean tides move the balloons onto beaches.
The number of balloons found per volunteer was significantly higher on remote ocean beaches. The higher numbers for remote beaches likely provide a more accurate picture of balloon litter on beaches, as remote beaches are not cleaned as frequently as more accessible beaches are. To better understand the true nature of balloon litter as marine debris, Mid-Atlantic states have been surveying remote beaches to track abundance, distribution, accumulation, and fate of balloon-related litter in the marine environment.
By documenting these details on balloon litter, it may be possible to identify sources of balloon debris. For example, logos or messages may still be legible on littered balloons that help identify events and occasions. That information can be used to determine which occasions are most likely to result in balloon litter. Documenting the condition of each balloon reveals how many balloons are released with ribbons, how many are reaching an altitude that causes them to burst, how many balloons made of which materials are being released, and more.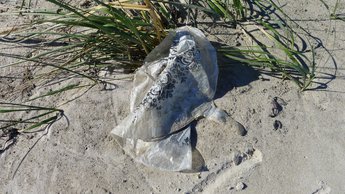 MARCO Launches Prevent Balloon Litter Campaign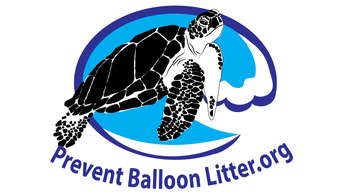 The Portal maps were published in conjunction with the launch of MARCO's Prevent Balloon Litter Campaign, which aims to reduce balloon releases by raising awareness of their harmful impacts and proposing environmentally friendly alternatives. The pilot project is being supported with funding from the National Oceanic and Atmospheric Administration (NOAA) Marine Debris Program.
The MARCO effort will build upon a social marketing campaign created by the Virginia CZM Program and Clean VA Waterways in 2015, expanding its reach to the states of Delaware, Maryland, New Jersey and New York. MARCO has engaged social marketing expert and author Doug McKenzie-Mohr, who consulted on the Virginia project, to develop messages to discourage balloon releases that will overcome barriers to behavior change and present alternatives that satisfy people's needs for creating a ceremony or activity that expresses their joy, sadness, gratitude or other emotions.
For more information about balloon releases and litter-free ideas for celebrations and remembrances, visit preventballoonlitter.org.
Share this story