MARCO, MARACOOS Partner to Produce Monthly Maps of Sea Surface Temps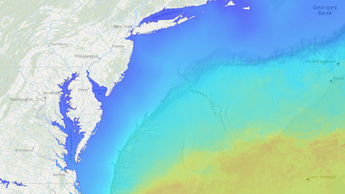 Users can now automatically animate or manually toggle through the monthly maps by activating the MARACOOS Sea Surface Temperatures Monthly Slider layer, found within in the Oceanography theme. Once the layer is selected, click on the Active tab in Marine Planner and either press the play button to launch the animation or move the slider bar from month to month. (For further instruction on the Slider and Animation tool, click here.)
The monthly maps are based on all available one-day composite data collected by NASA's MODIS Aqua satellite from 2003 through 2017. The maps cover the full East Coast (including portions of Canada), the Gulf of Mexico region and the Great Lakes, and extend from inside of the Atlantic's major bays and estuaries to the deep sea. Darker blues represent cooler temperatures while the oranges and reds indicate warmer waters.
The Sea Surface Temperatures Monthly Slider is the first in a group of map products to be released on the Portal this year that draw upon the real-time observational data and expertise provided through MARACOOS.  These maps will depict physical characteristics of the ocean and be produced at a scale that supports long-range regional ocean planning. Among the products currently under development are a series of maps showing ocean currents along the Mid-Atlantic coast.  Additional oceanographic observations and predictions can be accessed via the MARACOOS Oceans Map.  
MARCO Portal and MARACOOS partners included the Rutgers Center for Remote Sensing and Spatial Analysis, the Rutgers Center for Ocean Observing Leadership, the Rutgers Department of Marine and Coastal Sciences, and the University of Delaware's Ocean Exploration, Remote Sensing, Biogeography Lab.

Share this story