NY Wind Energy Area for Consideration Now on Portal
Portal users can now compare new sites that the State of New York is examining for offshore wind development with thousands of other map layers showing shipping traffic, fishing activity, marine life distributions and more in Marine Planner.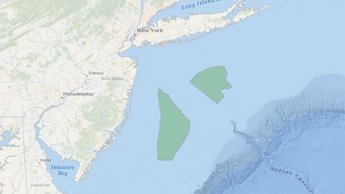 The new map layer, called NYS Identified Wind Energy Area of Consideration, can be found by clicking on the Renewable Energy theme in Marine Planner. The Area of Consideration consists of two separate sections – an East zone located roughly 30 miles off Long Island and a West zone that begins approximately 25 miles outside of Manasquan Inlet, New Jersey.
In October, New York State announced it had asked the federal Bureau of Ocean Energy Management (BOEM) to consider identifying and leasing at least four new Wind Energy Areas off New York's Atlantic Coast, each capable of accommodating at least 800 megawatts of offshore wind generation. To support its request, the State submitted the Area for Consideration to locate these new Wind Energy Areas (WEA). The State also requested that BOEM utilize the data and analysis which informed the Areas for Consideration to help expedite its process for site identification.
The proposal is the result of work undertaken by the New York State Energy Research and Development Authority (NYSERDA), New York Department of State, and New York Department of Environmental Conservation.
No state or federal agency or entity has committed to any specific course of action with respect to the development of future wind projects in the Area of Consideration. In the event BOEM identifies a new WEA and awards a lease in the future, any offshore wind project in that new WEA will be required to meet all state and federal permit, license and other approvals prior to proceeding with the development of the project.
Visit the NYSERDA website for more information, including a report on the Area for Consideration, fact sheets and other downloadable files.
Share this story