Visualizing aids to navigation with U.S. Coast Guard Fifth District
The Mid-Atlantic Ocean Data Portal team is helping the U.S. Coast Guard Fifth District to conduct an analysis of the existing network of seacoast navigation aids (or buoys) in the region.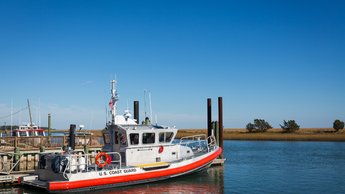 With the proliferation of GPS, charting software, AIS, and other systems, seacoast buoys are becoming increasingly redundant.  To facilitate public review of seacoast aids in the Mid-Atlantic, the Coast Guard is incorporating links to the MARCO Portal with maps of specific aids under consideration for alteration, position changes or discontinuation in a public Local Notice to Mariners.  This will allow mariners the opportunity to visualize the specific aids with other layers depicting fishing, energy development, recreational uses and provide feedback on their relative importance for navigational safety. 
If you have an idea, proposal, or plan that could benefit from marine spatial visualization, consider creating a map group.  The soon to be released feature, map groups, offers registered Portal users a work space to collaborate around a common theme. Testing begins in May. Email 
portal@midatlanticocean.org
 if you are interested.
Share this story