The Mid-Atlantic has a gently sloping continental shelf and strong offshore winds, making offshore wind energy a focus of policy, research, and investment for the region. The Mid-Atlantic states are increasingly looking to offshore wind as an energy source that can help them meet their renewable portfolio standards and goals.
While offshore wind is a target industry for energy production in the region, it is imperative that offshore wind development proceed with full consideration of any potential effects on marine life as well as other ocean resources and uses. To help coastal managers and decision makers build understanding of the potential interactions between offshore wind development and other ocean uses and resources MARCO's Mid-Atlantic Ocean Data Portal houses and displays thousands of data layers.
Current federal Bureau of Ocean Energy Management (BOEM) offshore wind development lease areas are depicted in a series of Portal maps and can be overlayed with habitat, fisheries, and other ocean use data layers. Scroll below for a tour of offshore energy lease areas throughout the Mid-Atlantic.

New York
New York State plans to generate electricity from offshore wind lease areas located in the New York Bight and southern New England waters:
The South Fork Wind project (seen in green, Lease Area OCS-A 0517) is a joint venture of Ørsted and Eversource Energy located in the Atlantic Ocean approximately 35 miles east of Montauk Point. This will be New York's first commercial offshore wind project and will generate approximately 130 MW. The Long Island Power Authority (LIPA) is contracted with the South Fork Wind project to meet growing energy demand on Long Island's South Fork.
The Sunrise Wind project (seen in brown, Lease Area OCS-A 0487) is proposed as a joint venture of Ørsted and Eversource Energy. It would be located roughly 30 miles from Montauk Point. The Sunrise Wind cable would inject approximately 880 MW delivered to the Holbrook Substation located in central Long Island.
The Empire Wind projects proposed by Equinor Wind US would construct two offshore wind facilities in a roughly 80,000-acre triangular area (seen in blue, Lease Area OCS-A 0512) located approximately 14 miles south of Jones Beach, New York. The Empire Wind 1 project located in the northwest half of the lease area will produce over 800 MW of energy and proposes a cable route to New York City's Gowanus Substation. The Empire Wind 2 project occupying the southwestern half of the lease area will produce approximately 1,260 MW and deliver energy to the Oceanside Substation in western Long Island.
The Beacon Wind project proposed by Equinor Wind US will be located over 60 miles east of Montauk Point in Lease Area OCS-A 0520. This project proposes to generate 1,230 MW and interconnect to New York City's Astoria Substation.
BOEM has completed its analysis of additional lease areas within the New York Bight, as depicted in the BOEM Wind Planning Areas layer.
New Jersey
There are currently two conjoined lease areas roughly 10 miles off the coast of Atlantic City, New Jersey:
To the north (in red) is the 183,000-acre Atlantic Shores project area, leased jointly by EDF Renewables and Shell. It is expected to generate roughly 1,500 MW of electricity.
To its south is a 160,000-acre area leased by Ørsted that includes the Ocean Wind I and II project areas, shown in brown and green. The areas are collectively expected to generate over 2,200 MW of power for New Jersey.
For the most recent information related to offshore wind in New Jersey, please see https://www.nj.gov/dep/offshorewind/.
Delaware & Maryland
There are currently three lease areas located off the coasts of Delaware and Maryland.
To the north (in brown) is the 70,000-acre GSOE I area. Directly adjoining it to the south is the 26,000-acre Skipjack Offshore Energy area (seen in light green). Skipjack was awarded offshore renewable energy credits (ORECs) from Maryland Public Service Commission in 2017 for a 120 MW capacity wind farm (Skipjack Wind 1) and in December 2021, Maryland Public Service Commission awarded a 20-year OREC for Skipjack Wind 2, with a capacity of 846 MW. Ørsted is the lease holder for both projects. Ørsted plans to build Skipjack Wind 1 and Skipjack Wind 2 as one project and expects them to be commissioned in 2026.
Approximately seven miles south, and 10 miles off the coasts of Delaware and Maryland, is an 80,000-acre area (seen in yellow) leased by U.S. Wind.
Virginia
The first offshore wind turbines in U.S. federal waters are now producing power off the coast of Virginia. Installation was completed on two turbines in the summer of 2020 and they became fully operational by October.
The Coastal Virginia Offshore Wind Pilot Project (CVOW-P) is designed to demonstrate a grid-connected, 12-megawatt offshore wind test facility on the Outer Continental Shelf about 27 miles off the coast of Virginia Beach. The data obtained and lessons learned from this project will be made publicly available and inform the future production of renewable energy within the adjacent commercial lease area, where construction is expected to begin in 2024. The research site is leased by the Commonwealth of Virginia's Department of Energy. Dominion Energy was designated as the lease operator and contracted with Ørsted to construct the turbines and L.E. Myers Company to perform onshore electrical design and construction.
Approximately 115,000 acres of offshore has been leased for offshore wind development, including one aliquot (shown as dark square) that was designated for the development of the test turbines (sites marked as turbine icons). A submarine power cable connecting to this area is seen in blue. The full Virginia lease area, controlled by Dominion Energy and Ørsted, is anticipated to produce 2,500 MW of electricity.
Ecological and Economic Considerations
Offshore wind energy is a growing industry in the Mid-Atlantic, and it is important that impacts to the ocean's ecological and economic resources are carefully considered during the planning and management of new and existing projects.
FISHERIES
The Portal can be used to identify potential interactions between the fisheries industry with offshore wind lease areas. The site contains over 1,000 interactive maps showing commercial fishing activities, with layers based on federal vessel trip reports (VTR), vessel monitoring system (VMS) data, automatic identification system (AIS) transit counts and more.
The map above shows AIS data for federally permitted fishing vessels of all types in 2017 and the BOEM lease areas.

The map now transitions to display an overlay of the BOEM lease areas and one type of fishing activity -- in this case, VMS data for surfclam/ocean quahog fishing in 2015-16.
Below are some fisheries-specific informational resources for the Mid-Atlantic region.
The Responsible Offshore Development Alliance (RODA) is a coalition of fisheries industry members that was created to foster collaboration with regulatory agencies in order to minimize impacts to fisheries during offshore development activities.
The Responsible Offshore Science Alliance (ROSA) was initiated by RODA and is specifically focused on advancing research and monitoring efforts associated with fisheries and offshore wind interactions.
The Mid-Atlantic Fishery Management Council (MAFMC) offshore wind resource page.
BOEM Report: Mitigation Measures to Address Potential Use Conflicts between Commercial Wind Energy Lessees/Grantees and Commercial Fishermen on the Atlantic Outer Continental Shelf (PDF, 2 MB)
MARINE LIFE

The Mid-Atlantic coast provides habitats for a number of migratory and non-migratory birds, marine mammals, sea turtles, corals, and more, including some that are considered threatened or endangered. The Portal houses over 4,000 data layers depicting the abundance and species richness for many marine life groups and individual species.
These data layers can be activated in combination with those showing offshore wind areas, to help users analyze their compatibility. The map above shows the abundance of marine birds with high collision sensitivity and BOEM's Active Renewable Energy Lease Areas.
The Regional Wildlife Science Entity (RWSE) supports regional collaboration and coordination on wildlife research and monitoring and offshore wind: https://neoceanplanning.org/rwse/.
Regulatory Framework/Policy Considerations
All of the proposed offshore wind leases In the Mid-Atlantic are located on the Outer Continental Shelf (OCS), which encompasses all Federal submerged land, subsoil, and seabed from 3 to 200 nautical miles offshore. The Energy Policy Act of 2005 placed oversight responsibility on BOEM for all renewable energy projects within the OCS. Thus, BOEM is responsible for issuing leases, easements and rights of way for offshore wind projects.
Many states conduct Federal Consistency reviews to ensure that federal actions are consistent with state coastal management policies. States participating in the federal consistency provision of the Coastal Zone Management Act may have the authority to review offshore wind development activities to ensure federal actions are consistent with that state's coastal management policies.
Federal consistency is the principal tool that allows states to influence OCS activities, as many may not directly require a state permit or approval for implementation (with the exception of associated facilities in or on state waters or lands). Included within the consistency review is a mandatory public comment period, in which states are required to provide for public participation.
Stakeholder Engagement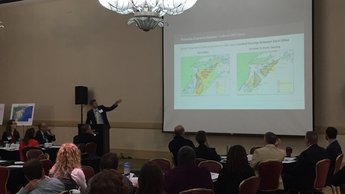 States are provided an opportunity to communicate with BOEM about offshore wind projects through the Intergovernmental Task Force, which was created by BOEM in each state that has expressed interest in offshore wind development. Some states also offer state-led stakeholder meetings in addition to the BOEM Intergovernmental Task Force meetings. Meeting information for each MARCO state is listed below.

New York
New Jersey
Delaware
Maryland
Virginia
New York Bight
Click here for information on activities in this area off the coasts of New York and New Jersey
Central Atlantic
Click here for information on activities in this offshore area from Delaware to North Carolina
Mid-Atlantic State-Specific Offshore Wind Resources