8 Years of Fronts, Primary Productivity Data Now Available
Forty new maps showing Fronts Probability and Net Primary Productivity along the East Coast have been added to Marine Planner, bringing these datasets up to date to cover every season from 2010 through 2017. The maps are the first installment in a long-planned expansion of the Portal's oceanography data that users will see in the months ahead.

All of the maps can be found by clicking on the Oceanography theme in Marine Planner. Here's a look at what's new:
Net Primary Productivity (NPP): These 37 maps provide an indication of photosynthetic activity in seasons from 2010 through the winter of 2018. Specifically, net primary productivity measures how much more carbon dioxide aquatic plants digest than they release into the water and atmosphere.
Fronts Probability: Ocean fronts – areas where water masses with differing temperatures, salinities and other properties meet – play an important role in ocean processes ranging from plankton blooms to the accumulation of marine debris. The Portal now contains 34 maps showing areas where fronts were most likely to form at the sea surface in seasons from 2010 and 2017.
The maps were generated utilizing data available from NOAA CoastWatch. They provide a snapshot of season-wide trends based on real-time observational data.
The Oceanography theme currently offers seven categories of data that include a total of 83 map layers. The maps were designed to present a wealth of data in simple, user-friendly ways that don't duplicate information offered by other online mapping tools.
Among the additional Oceanography data expected to debut by this summer are map layers depicting the Mid-Atlantic's surface currents and sea surface temperatures. Users will be able to compare data from several time periods, which may be useful in spotting trends and anomalies, such as areas where the ocean is getting warmer or cooler. The Portal will also soon have an animation tool that allows users to automatically cycle through chronological maps such as the fronts and NPP in order.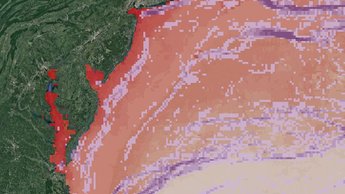 Share this story