View Interactive Map of NY Bight Wind Energy Call Areas
Four new areas off the New York and New Jersey coasts that are being considered by the federal government for their suitability to accommodate offshore wind installations can now be viewed and analyzed in Marine Planner. An interactive map showing these New York Bight Call Areas can be found along with several other offshore wind-related layers in the Renewable Energy data collection.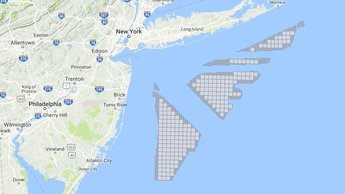 The Bureau of Ocean Energy Management (BOEM) recently published a Call for Information and Nominations from companies interested in commercial wind energy leases within the proposed areas in the New York Bight. BOEM is also seeking public input on the potential for wind energy development in the areas. This includes site conditions, resources and multiple uses in close proximity to, or within, the areas that would be relevant to BOEM's review of any nominations submitted, as well as BOEM's subsequent decision whether to offer all or part of the Call Areas for commercial wind leasing.
The proposed locations under consideration are delineated as Fairways North, Fairways South, Hudson North, and Hudson South. The four Call Areas include 222 whole OCS blocks and 172 partial blocks and comprise approximately 2,047 square nautical miles.
BOEM previously awarded 13 commercial wind energy leases off the Atlantic coast and expects to hold an additional competitive auction for wind energy areas off Massachusetts later this year. In addition, the state of New York recently announced it was examining its own Wind Energy Area of Consideration consisting of two separate sections in the New York Bight.
BOEM will accept nominations and public comments on its new Call Area until July 30, 2018. Instructions for submitting comments and other information can be found at https://www.boem.gov/NY-Bight/.

Share this story