Browse 1,000 Commercial Fishing Maps in Marine Planner
Where do the fishing vessels you see passing through the inlet go? How have the Mid-Atlantic's fishing hot spots changed over the last 20 years? Which areas of the ocean are most important to your local fishing port and economy?
A new collection of interactive maps on the Portal can help answer these and countless other questions. Combined with dozens of previously released maps on the site, the approximately 1,000 new layers now comprise one of the largest online libraries of commercial fishing maps in the world.
The maps were created drawing upon two decades of federal vessel trip report (VTR) and permit information filed by commercial fishermen, as well as a decade of vessel monitoring system (VMS) data produced by satellite technology that tracks the movements of vessels participating in federally managed fisheries.
VTR/Communities at Sea
The VTR datasets offer a glimpse at where fishing effort was most concentrated across four time periods (1996-2000, 2001-05, 2006-10 and 2011-15) for vessels with six gear types: bottom trawl (greater and less than 65 feet), dredge, gillnet, longline, and pots and traps. VTR information was used to create two groups of maps: 

Commercial Fishing – VTR maps (found within the Fishing theme) show the overall concentrations of fishing in federal waters from Virginia through Maine by gear groups and years, with warm and cool colors used to represent higher and lower amounts of time people spent fishing in an area. Portal users can click on the map to activate pop-up windows that show which specific ports relied on the area. For example, clicking on a spot near the Hudson Canyon may reveal that longliners from Montauk, New York, and Barnegat, New Jersey, fish in the selected waters. Users can also click on dots showing individual port locations for information about how much time crews from those communities spent at sea.
Alternatively, the Fishing - Communities at Sea search tool can be used to generate maps showing fishing activity only by specific ports. For example, users can select Gillnet 2011-2015 and type in Virginia Beach to generate a map showing where crews from there spent the majority of their time at sea. Data is available for over 200 ports large and small from Maine to Cape Hatteras, North Carolina. "Communities at Sea" was named for a methodology developed by Rutgers University's Kevin St. Martin.
The video below offers a short demonstration of how to use the Communities at Sea tool.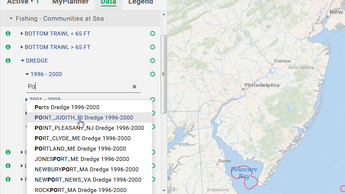 VMS Data
Commercial Fishing – VMS maps (also found within the Fishing theme) depict transit, fishing, and other vessel activities by eight fisheries: scallop, surfclam and ocean quahog, squid, monkfish, mackerel, herring, and Northeast multispecies (groundfish). Several maps have been added to this library showing more recent date ranges than were previously available. The VMS maps were developed by our partners at the Northeast Ocean Data Portal.
With VMS maps, users can select a fishery, such as scallops, choose a date range, and select all activity or activity occurring at less than a certain speed threshold. All maps will show fishing vessel concentrations from port to the continental shelf, clearly depicting important fishing vessel transit lanes. Maps showing activity occurring at less than 5 or 4 knots (speed thresholds chosen for each fishery in collaboration with the industry) highlight likely fishing areas.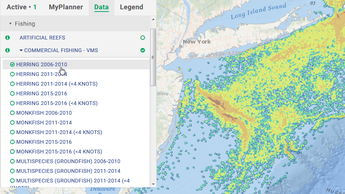 A Tool for Fishing, Outreach, Science and More
The public release of these datasets represent a milestone for ocean planning and education on the East Coast. They can be used for a wide range of purposes, such as:
Enabling fishermen to visualize and illustrate places at sea that are most important to their communities when participating in fishery management discussions, submitting comments on offshore wind proposals, etc.
Guiding government engagement with fishing communities for a range of ocean planning, permitting and management decision-making processes
Helping captains see where fishing activities are most focused today vs. years past
Guiding offshore infrastructure decisions, such as designing undersea telecom cable routes to steer clear of areas where dredging activity is most intense
Serving as a resource for scientists researching topics such as shifts in species habitats
The maps were reviewed, discussed and improved though meetings with commercial fishermen throughout the Mid-Atlantic and Northeast. For privacy purposes, the data was stripped of any information that could indicate the activities of individual vessels.
The Portal hosts dozens of additional maps depicting commercial fishing, fishery management zones, recreational fishing information and more. Users may browse the Fishing theme in Marine Planner or the Fishing section of the Portal's Data Catalog for more information.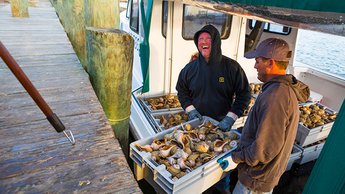 Watch Our Demo Webinar
Members of the Portal team conducted a special webinar dedicated to our fishing data on June 12, 2018. Watch it below to learn more about our full collection of commercial and recreational fishing maps.

Share this story