New Homepage and Site Upgrades
Notice anything different about the Portal?

Based on suggestions from users like you, we recently created a new homepage and reorganized the site to make it more intuitive and easier to find key content. Some of the highlights:
Splash Page: Flip through the carousel at the top of our new homepage for links to the latest blog posts, Ocean Stories, calendar items and more. Beneath that are cells with links to important sections on the Portal – including some handy pages you may not have known about.
Simplified Navigation: We revised some of the terminology, shuffled and added a few links in the navigation so even first-time visitors can find what they're looking for fast.
Case Studies Page: Our collection of Portal use examples used to be housed on the Blog, but now have their own page, which you can find under the Help dropdown.
Previously, visitors who entered the Portal URL in their browsers were directed to Ocean Stories features. Those stories can all still be found in the Ocean Stories section, and your bookmarks to these pages will still work as they always have.
How do you like it? Spot any glitches that surfaced in the transition? Let us know at portal@midatlanticocean.org.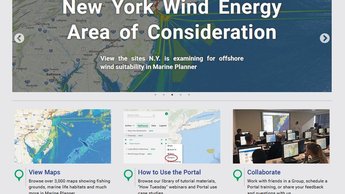 Share this story