Coast Guard Chesapeake Bay Approaches Draft Report Now Available
The U.S. Coast Guard has announced the availability of a draft report for its Port Access Route Study (PARS) for the Approaches to the Chesapeake Bay, which was first launched in November 2019. A new map layer on the Portal shows a network of shipping safety fairways proposed by the report to accommodate vessels navigating to and from the Chesapeake Bay and around the Virginia offshore wind energy lease area.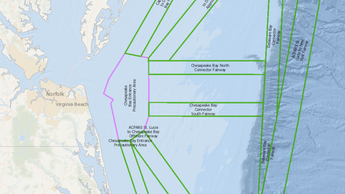 PARS are the means by which program managers determine the need to establish traffic routing measures or shipping safety fairways to reduce the risk of collision, allision and grounding, and their impact on the environment, increase the efficiency and predictability of vessel traffic, and preserve the paramount right of navigation while continuing to allow for other reasonable waterway uses. The study analyzes current routing measures around the approaches to Chesapeake Bay and proposes an adequate way to manage the forecasted maritime traffic growth, as well as the co-dependent use of the waters in support of future development.
The Coast Guard is seeking comments on the content, proposed routing measures, and development of the report. Members of the public may view the report, its supporting documents and instructions for submitting comments on the Federal Register website. Comments and related material must be submitted on or before July 16, 2021.
The USCG Chesapeake Bay Approaches PARS Proposed Fairways map layer can be found by clicking on the USCG Proposed Areas and Studies dropdown in the Portal's Maritime theme. In the same section, users can also find the Port Access Route Studies (PARS) Areas map layer showing the Chesapeake Bay study area (and three others in the Mid-Atlantic) as well as a Potential Fairways layer showing routes that extend along the East Coast, connect to, and may be modified by the proposed new Chesapeake shipping corridors.
Share this story