NY Bight Wind Energy Lease Sale Maps Added to Portal
A pair of new maps showing the areas of a proposed Bureau of Ocean Energy Management (BOEM) offshore wind energy lease sale in the New York Bight have been added to the Portal's Renewable Energy theme.
In support of the Biden-Harris administration's goal of installing 30 gigawatts of offshore wind energy by 2030, the Department of the Interior on June 11 announced a proposed sale for offshore wind development on the Outer Continental Shelf (OCS) in the New York Bight – an area of shallow waters between Long Island and the New Jersey coast. The Proposed Sale Notice (PSN) includes eight lease areas in the New York Bight that could be auctioned for commercial wind energy development.
These areas can be viewed by activating the BOEM NY Bight Proposed Wind Energy Areas for 2021 Lease Sale map layer, found in the Renewable Energy theme's Planning & Lease Areas dropdown. Clicking on this layer will also automatically activate a companion map – BOEM NY Bight Proposed Transit Corridors (2.44 nautical mile width) – which shows lanes that would be kept clear of turbines. Users may also activate the BOEM Wind Planning Areas map to view the boundaries of the lease blocks that comprise the areas proposed for sale.
A notice in the Federal Register opened a 60-day public comment period and provides detailed information about potential areas that could be available for leasing, proposed lease provisions and conditions, and auction details. Comments received by the end of the public comment period on Aug. 13, 2021, will be made available to the public and considered before deciding whether to publish a Final Sale Notice, which will announce the time and date of the lease sale.
During the PSN comment period, BOEM will host virtual meetings to share updates on BOEM's renewable energy leasing process, provide an overview on how the proposed lease areas were chosen and discuss new lease stipulations that BOEM is considering in the proposed New York Bight auction. BOEM will also host a public seminar to describe the auction format, explain the auction rules, and demonstrate the auction process through meaningful examples. Additional details on the virtual meetings and auction seminar, including how to submit comments, will be posted on BOEM's website.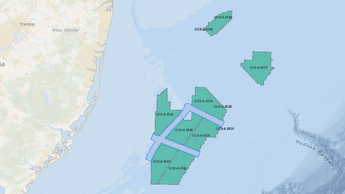 Share this story