Artificial Reefs Map Updated, Now Includes Chesapeake Sites
The Portal's Artificial Reefs map has been expanded to include dozens of new sites in the Chesapeake Bay and revised to update the footprints of some installations at sea.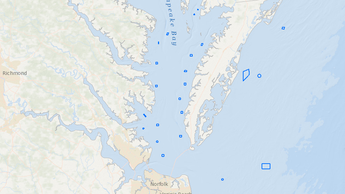 Available in the Fishing theme in Marine Planner, the Artificial Reefs layer has long been one of the most popular on the Portal. The map shows polygons outlining the general areas where artificial reef material has been deposited (entire zones are not necessarily filled with reefs). Users can click on any reef site to learn its name.

Composed of objects such as decommissioned ships and sunken rail cars, the region's artificial reefs serve as underwater cities where marine organisms aggregate and thrive. With corals and plants growing on the wrecks and fish teeming around them, the sites are major attractions for recreational and commercial fishers and SCUBA divers. Their value to ocean users becomes apparent when the Artificial Reefs layer is activated in combination with any of the state Recreational Uses Workshop layers (see right).
The Portal Team worked with its state partners from New York, New Jersey, Delaware, Maryland and Virginia to review the data in the previous map version (compiled by the Nature Conservancy in 2010) and identify any missing or changed reef areas. Below are the notable changes:
For the first time, the map includes several reef locations in the Chesapeake Bay, extending from the Hampton Roads area to the body's upper reaches near Baltimore.
The addition to the database of an existing reef area 2 miles outside of New Jersey's Manasquan Inlet.
The addition to the database of an existing reef area 13 miles off the coast of Westhampton, New York.
Modifications to some existing reef areas in the Delaware Bay.
Those interested in the Artificial Reefs map may also view the Portal's Wrecks and Obstructions layer to learn about the thousands of sunken vessels off the coast that function like miniature reefs.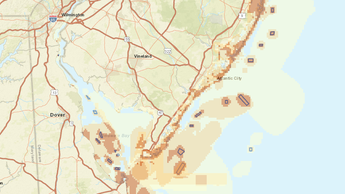 Share this story