Export Your Marine Planner Drawings in 4 File Types
Registered Portal users can now export their custom-made drawings in four file formats that can be used on outside programs.
With the update, user-created drawings or lease block collections that highlight geographic areas of interest can be shared with others in several ways. These custom map features can be distributed among the user's Portal groups or exported as four file types — Shapefile, GeoJSON, WKT and KML — allowing a great deal of flexibility in sharing the information in a variety of spatial and text formats.
The function will make it possible for users to conduct participatory mapping and share information about important ocean places using common GIS-based software systems, database programs, mapping applications such as Google Maps, and more.
To export files, sign in to the Portal, open Marine Planner and follow these steps:
Click on the MyPlanner tab and then click on Drawings or Lease Block Collections. Your list of projects will drop down below the heading.
To export a file, click on the cog/settings icon next to the project name and select the Export option (illustrated below). A window will appear giving you the choice of file types to export.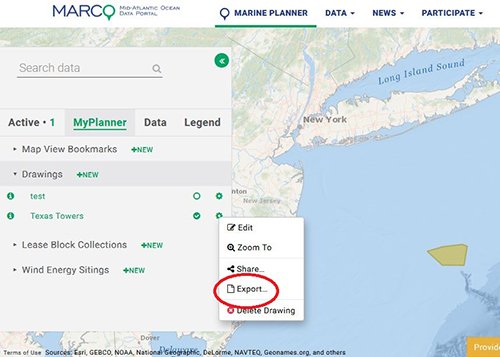 To Share the files within an existing Portal group, click the Share icon and select the group(s).
More information on each of the four file types is available via the Export window. Click on the green question mark icon next to each item for links to articles with full explanations.
Share this story