Explore new map data illustrating undersea cable routes
New data depicting the locations of in-service and out-of-service undersea cables is now available for viewing on Marine Planner. The data was supplied by the North American Submarine Cable Association (NASCA), an industry group that represents the majority of the continent's cable operators, including AT&T, Sprint and Verizon.
Despite the recent explosion in wireless devices and satellite-based technologies, undersea cables still carry over 95 percent of North America's international phone calls and digital communications. The New York and New Jersey coasts are particular hotspots for cables extending across the Atlantic to Europe. By making the location of undersea lines visible for those operating vessels such as trawling boats or dredges, the Portal can play an important role in protecting this critical infrastructure.
To view the data, open the Marine Planner, click on the Data tab, click on Maritime, and select Submarine Cables from the dropdown list.
For security purposes, cable routes are not shown within 100 meters of their land connections. When zoomed in at close range, the routes appear as curving lines to obscure their exact locations.
Routes are not depicted beyond U.S. territorial waters. Existing cables that are owned by non-NASCA members are not included in the dataset.
The data was originally provided by NASCA to MarineCadastre.gov. The Marine Cadastre team worked with MARCO Portal team to deliver the data in a format suitable for the Marine Planner. 

An Ocean Stories feature highlighting the region's undersea cable industry can be read here. For more information on NASCA and its cables, visit www.n-a-s-c-a.org or email CableCharts@n-a-s-c-a.org.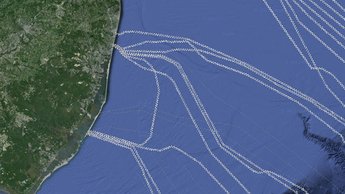 Share this story