What We Heard: FAQs from the MidA Ocean Plan Open Houses
Throughout July we had the pleasure of meeting hundreds of you as we hit the road in support of the Mid-Atlantic Regional Ocean Action Plan's release.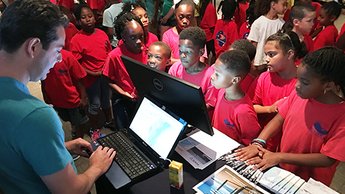 We walked you through the Portal at open houses in Virginia, New Jersey, Maryland, Delaware and New York. We showed you tips and tricks on the boardwalks of Long Branch and Ocean City, in downtown Lewes, and at the aquarium in Virginia Beach.
It was gratifying to hear the nightly discussions between members of the public and the Mid-Atlantic Regional Planning Body (MidA RPB) about where the Portal is today and how we can make it better in the future. The feedback was overwhelmingly positive and the criticisms were constructive and thoughtful.
At each of those stops, we heard and answered questions – lots of questions. Here are a few that came up more than others.
Q. What is the future of the Portal? Will it continue after the Mid-Atlantic Regional Ocean Action Plan is finalized?
Yes! MARCO and the MidA RPB believe the Portal will only grow in importance as a tool for ocean planning, education and engagement, and are committed to its long-term growth. The Draft Ocean Action Plan emphasizes the development of a plan to sustain its operations and maintenance as a high priority. One of the document's chapters is dedicated largely to the Portal and lists the following areas for action:
Maintain operational components including web services, data development, and integration.
Continue to engage in agency outreach and public engagement to enhance data and Data Portal functionality to effectively support decisions related to ocean management.
Discussions are underway regarding funding streams, staffing, agency roles and other details. So have no fear — the Portal is here to stay.
Q. What's next?
It's going to be a busy year for the Portal Team. An emphasis of the Portal Team's upcoming work will be to support the work and goals of the Draft Ocean Action Plan, which is open for public comment through Sept. 6 at boem.gov/ocean-action-plan.
Among the improvements in the works:
The addition of a trove of new map layers illustrating marine life distributions and trends in the region. This data will be rolled out with an initial set of synthesis map layers followed by a larger, searchable collection of map layers showing individual species in the fall.
Our oceanography map collection, launched as a "beta" theme in the spring, will be expanded to include map layers illustrating currents, surface temperatures and bottom temperatures.
Additional maps depicting fishing activities in the Mid-Atlantic.
Q. Where do you get your data from?
The Portal features data from a wide range of sources – federal agencies, states, the private sector, and in some cases, home grown. Much of the data was created by our federal partners – in particular the MarineCadastre.gov team (NOAA and BOEM), the U.S. Coast Guard and the Department of Defense. An important part of the Portal Team's mission has been to bring information that is available in separate places under one umbrella, with a strict focus on the Mid-Atlantic region.
The easiest way to determine the source of any dataset is to click on the green "i" information buttons to the left of each map layer title. That will provide you with a detailed explanation of what the data is and where it came from. And if you're interested in the data for your own map project, in many cases, you can download it for free.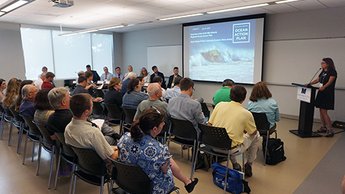 Q. Why don't you have map layers A, B or C, like site X?
Our goal is to present a collection of map layers that is as relevant to the Mid-Atlantic region as possible. We realize there are portals on the web with more and different information, but we don't want to simply duplicate the work of other sites. Instead, we're focused on making this site as easy and useful as possible to our region's users.
However, if there's a dataset on another site that you wish you could import, the Portal does have an innovative tool that allows registered users to temporarily overlay map layers in Marine Planner. Click here for instructions on using the tool and an explanation of the data formats that will work.
Q. How can I get my data on the Portal?
If you have spatial data that may address a gap or are aware of a data collection effort taking place that could make the Portal better, we want to hear from you. The Portal Team has a data selection and vetting process in place to ensure that it remains a trusted resource for the public. See our Data Needs and Priorities page to learn about our current unmet needs, and click here for a fact sheet about our data evaluation process and criteria for inclusion.

Share this story