Mid-Atlantic RPB Receives Benchley Ocean Award
Congratulations to the Mid-Atlantic Regional Planning Body (RPB), which was honored with the prestigious Peter Benchley Ocean Award on May 11 for its work developing the Mid-Atlantic Regional Ocean Action Plan.
The RPB was recognized in the Excellence in Solutions category along with the Rhode Island Ocean Special Area Management Planning Team and the Northeast Regional Planning Body. The organizations were cited for producing "landmark ocean plans that will benefit all users and provide excellent models for other states and regions to engage in smart ocean planning."
A news release summarizing the honorees also recognized the role of regional data portals in improving ocean management decisions.
"Understanding our marine ecosystems and how they function and applying that shared knowledge to permitting and planning processes allows not only for better common allocation of public waters but reduces conflicts between different users in fisheries, marine farming, shipping and ports, offshore clean energy, national defense and marine parks, wildlife and habitat," the release said "These collaborative efforts have focused on identifying and carrying out best practices for early coordination in decision-making; developing, sharing, and using new and better ocean data; and implementing interjurisdictional coordination actions that address priority opportunities and challenges in each region."
The Peter Benchley Ocean Awards acknowledge organizations and individuals across many sectors of society for achievements that lead to the protection of the ocean, coasts and the communities that depend on them. The awards were co-founded in 2004 by Wendy Benchley and David Helvarg, and named in honor of "Jaws" author Peter Benchley, who worked to expand public awareness of the importance of protecting sharks and ocean ecosystems. This year's event will be held at the Smithsonian National Museum of Natural History and Sant Ocean Hall in Washington, D.C..
The Mid-Atlantic Regional Council on the Ocean (MARCO) and Portal Project Team worked closely with the RPB on the Mid-Atlantic Regional Ocean Action Plan's creation and are now supporting its implementation. A key emphasis of the Portal Project Team's current work is filling data gaps that will help advance on the Plan's strategic objectives. The Portal Project Team consists of the Monmouth University Urban Coast Institute, Rutgers University's Edward J. Bloustein School of Planning and Public Policy and the Center for Remote Sensing and Spatial Analysis (CRSSA), The Nature Conservancy and Ecotrust.
Click here for more on the Peter Benchley Ocean Awards and here to view the Mid-Atlantic Regional Ocean Action Plan.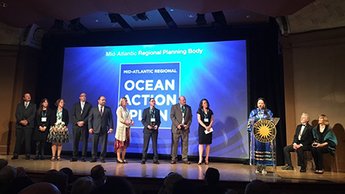 Share this story