Map Shows Areas with Federally Identified Sand Resources
A new map in Marine Planner allows users to examine areas along the Mid-Atlantic coast where sand and gravel resources may be available.
Created by the Bureau of Ocean Energy Management (BOEM), the Atlantic OCS Aliquots with Sand Resources layer was designed as a planning tool to assist in the management of Outer Continental Shelf (OCS) sediment resources, reduce multiple use conflicts, minimize interference with existing leases (e.g., renewable energy) and rights-of-way (e.g., submerged infrastructure, shipping lanes, military operations), and help avoid sensitive areas (e.g., archaeological sites, protected habitat).
Aliquots are offshore areas that measure 1,200 by 1,200 meters. They represent 1/16 of an OCS block – squares in a grid pattern that BOEM uses for leasing and administrative purposes. (Activate our Outer Continental Shelf Lease Blocks layer for more information.)
Each aliquot shown on the map is an area where sand resources have been identified through reconnaissance and/or design-level studies. Additional OCS studies may be necessary in order to refine and quantify the extents of sand resources within these areas.
BOEM's Marine Minerals Program (MMP) is responsible for managing non-energy minerals (primarily sand and gravel) on the OCS. Access to and identification of potential OCS sand resources is critical for the long-term success and cost-effectiveness of many shore protection, beach nourishment, and coastal habitat restoration projects along the Mid-Atlantic coast.
The Portal also contains a Federal OCS Sand and Gravel Borrow (Lease Areas) map that delineate areas where agreements are, were or may be in place between BOEM and another government agency (such as the U.S. Army Corps of Engineers) for the use of sediment deposits found at or below the surface of the seabed. The layer can be found along with the Atlantic OCS Aliquots with Sand Resources within the Maritime theme in Marine Planner.
The new layer is one of several that were first published in BOEM's Marine Minerals Information System (MMIS), which was launched in February. The MMIS is a state-of-the-art tool to assist decision-makers in managing coastal recovery and planning coastal resilience projects. You can visit the site at https://mmis.doi.gov/BOEMMMIS/ or read BOEM's press release to learn more.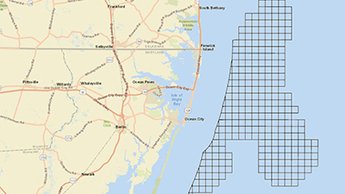 Share this story