Updates: Administrative Data Collection
Five new maps showing jurisdictional or agency service area boundaries relevant to coastal and ocean management have been added to the Administrative theme in Marine Planner. The maps were originally published by our federal partners at MarineCadastre.gov and the National Park Service.
The data additions are:
Federal Consistency Geographic Location Descriptions: The Coastal Zone Management Act provides states with a voice in federal agency decision-making for certain activities in these areas that may affect a state's coastal uses or resources.
National Marine Fisheries Service Regions: Delineates the boundaries of NOAA Fisheries regions throughout the US. The Greater Atlantic Region Fisheries Office (GARFO) serves the Mid-Atlantic and New England.
National Park Service Boundaries: Shows the locations and boundaries of lands and marine areas administered by the NPS.
US Coast Guard Districts: Shows the jurisdictions of Coast Guard Districts throughout the US. The Mid-Atlantic is served by districts 1 (New Jersey through Maine) and 5 (New Jersey through North Carolina).
USACE Regulatory Boundary: Delineates Army Corps of Engineers districts throughout the US. The Mid-Atlantic coast is served by the districts of New York, Philadelphia, Baltimore and Norfolk.
These maps join nine additional layers maintained in the Portal's Administrative data collection showing the extent of state, federal and international waters; federal outer continental shelf administrative boundaries; the locations of tribal headquarters; and the Northeast Canyons and Seamounts Marine National Monument area.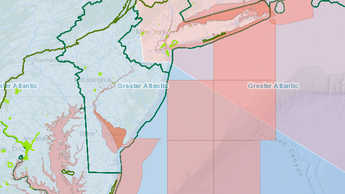 Share this story