North Carolina Port Access Route Study Area Now on Portal
A new map showing the focus area for a North Carolina Port Access Route Study (NCPARS) being led by the U.S. Coast Guard is now available in Marine Planner. The NCPARS is being conducted to determine whether existing or additional vessel routing measures are necessary along North Carolina's coast and in the approaches to the Cape Fear River and Beaufort Inlet.
The study is focused on routes between port approaches and international entry and departure transit areas affecting North Carolina's ports. The NCPARS will consider whether existing or additional routing measures are necessary to improve navigation safety due to factors such as planned or potential offshore development, current port capabilities and planned improvements, increased vessel traffic, existing and potential anchorage areas, changing vessel traffic patterns, weather conditions, or navigational difficulty.
The aim of vessel routing measures is to reduce the risk of casualties. Examples of potential measures include traffic separation schemes, two-way routes, recommended tracks, deep-water routes, precautionary areas, and areas to be avoided. The recommendations of the study may lead to future rulemakings or appropriate international agreements.
Although North Carolina is not one of the five Mid-Atlantic Regional Council on the Ocean (MARCO) states, several Portal map products cover state's coast due to the strong maritime trade and travel relationships between them. Beginning with its 2015 data, the Portal extended its Automatic Identification System (AIS) vessel transit counts maps south of Virginia to cover the full North Carolina coast and portions of South Carolina. The Portal's Commercial Fishing – VTR (aka "Communities at Sea") maps also capture fishing activity originating from North Carolina ports.
Members of the public are encouraged to use these maps to analyze the NCPARS area and offer comments on the study. Click here to read the Coast Guard's Federal Register Notice containing more information about the NCPARS and instructions for public comment. Comments and related material must be received on or before May 18, 2020, and requests for a public meeting must be submitted on or before April 17, 2020.
The creation of the NCPARS layer is the latest collaboration between the Coast Guard and the Portal Team to improve public access to data that is being used for ocean planning purposes. In January, the Portal debuted a new USCG Proposed Areas and Studies section in its Maritime theme containing map layers showing a Chesapeake Bay PARS area and proposed anchorage areas in the vicinities of the Delaware and Chesapeake bays. The new USCG Cape Fear – Beaufort Inlet, NC PARS Study Area layer can also be found in the collection.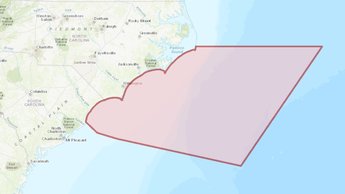 Share this story