MARACOOS, MARCO Create Surface Currents Maps for Portal
The Portal has published its first series of map layers showing typical sea surface current patterns for each season in Mid-Atlantic and southern New England waters. The maps are the latest data products developed through a partnership between the Mid-Atlantic Regional Association Coastal Ocean Observing System (MARACOOS), the Mid-Atlantic Regional Council on the Ocean (MARCO) and the MARCO Portal Team.
The data layers show seasonally averaged surface currents based on hourly surface current measurements collected by the Mid-Atlantic High Frequency Radar (HFR) Network from 2007 to 2016. Users can find the maps by clicking on the MARACOOS HF Radar Seasonal Surface Currents dropdown in the Portal's Oceanography theme.
The HFR Winter Surface Current map covers December, January and February; the Spring map covers March, April and May; the Summer map covers June, July and August; and the Fall map covers September, October and November. Higher-speed currents are represented by arrows in reds, oranges and yellows, while slower movements are depicted with cooler blues and greens.
HF radar is used by ocean researchers to measure surface current velocity near the coast. Like police speed guns monitoring the ocean, HF radar systems fire signals across the ocean and detect the speed and direction the waters are flowing by the signals that bounce back. Since the ocean surface is never still or flat, the waves and movements of water can serve as a constant source of data for scientists studying currents.
In 2019, MARCO, the Portal Team and MARACOOS partnered to create a series of maps depicting average monthly sea surface temperatures based on 15 years of recent data. The groups continue to work together to develop map products for the Portal that draw upon the real-time observational data and expertise provided through MARACOOS. These maps will depict physical characteristics of the ocean and be produced at a scale that supports long-range regional ocean planning. Additional oceanographic observations and predictions, including real-time currents maps, can be accessed via the MARACOOS OceansMap.  
Questions or comments about this data may be directed to MARACOOS at info@maracoos.org or the Portal Team at portal@midatlanticocean.org.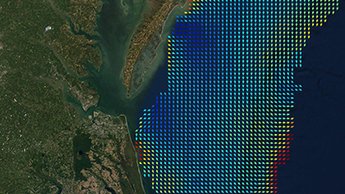 More Info on Webinar
You can learn more about the currents and sea surface temperatures maps created in partnership with MARACOOS in this Earth Day 2020 edition of our "How Tuesday" webinar series.
Share this story