Proposed Ambrose Anchorage Ground Available in Maritime Theme
Portal users can now view and analyze a 15-square-mile anchorage area proposed by the U.S. Coast Guard to accommodate future vessel traffic to port facilities in New York and New Jersey. The USCG Proposed Ambrose Anchorage Ground can be accessed by clicking on the USCG Proposed Areas and Studies dropdown in the Maritime theme.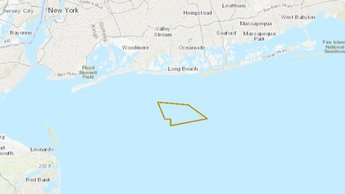 The map layer represents the region of interest for the potential establishment of an anchorage ground in an area referred to by mariners as the "Ambrose anchorage," which is an offshore area that has been used by ships awaiting inshore anchorages or berths. The area is located in the approaches to New York, approximately 3 nautical miles south of Long Beach, New York, and just north of the Nantucket to Ambrose Traffic Lane. The Coast Guard is considering formally establishing an anchorage ground at this location, possibly with regulations governing its use, if doing so will improve navigation safety and enhance safe and efficient flow of vessel traffic and commerce.
A recently completed harbor deepening project increased the federal project depth to 50 feet in New York Harbor to accommodate the next generation of commercial ships. According to the Coast Guard, ships going to or from the ports of New York and New Jersey have been anchoring in unregulated areas located in the approaches to New York north of the traffic lane for a broad range of purposes including waiting for available space at berths or inshore anchorage grounds, waiting on inspection, taking on stores, transferring of personnel, or other activities.
For more information about anchorage ground regulation in this vicinity, additional information about this potential establishment, public meetings, and/or how to submit public comment, visit the Federal Register Notice. Comments and related material must be received on or before June 1, 2021.
Share this story