See Which Counties Experience Surges in Summer Ocean Tourism Employment
A new map in the Portal's Socioeconomic theme reveals which of the region's coastal counties see the greatest spikes in summer employment tied to ocean tourism. The Ratio of Summer Peak to Off Peak Leisure & Hospitality Sector Employment map layer is an interactive version of a map that appears in the Mid-Atlantic Regional Council on the Ocean's (MARCO) New Perspectives on the Ocean Economy of the Mid-Atlantic States report, published in December.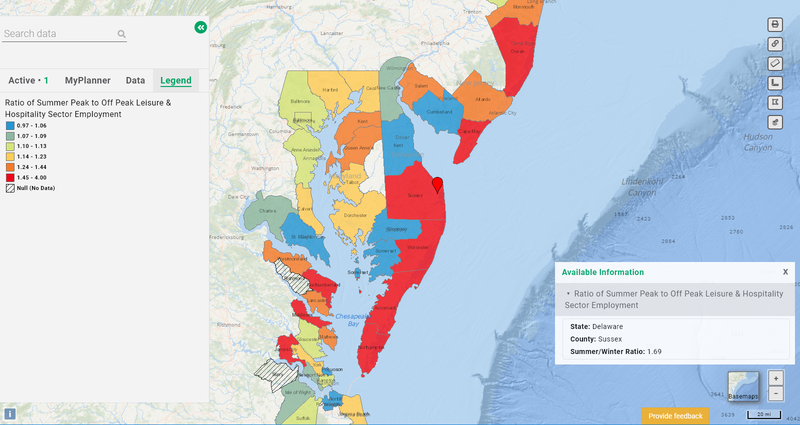 The map shows the ratio of summer peak to winter off-peak employment for each of the coastal counties in the report, with red representing the highest increases and blue representing areas that see little or no increase. Users can click on any county for a pop-up containing its summer vs. winter employment ratio.
Cape May County, New Jersey, stands out as having the largest difference between summer and winter employment, with a ratio of 3.73 to 1. Other shoreline counties along the Atlantic in New Jersey, Delaware, and Virginia have ratios showing summer employment between 45% and 120% higher than winter. On the other hand, there is little summer peak shown in Kent County, Maryland, or some of the middle Chesapeake counties in Maryland and Virginia.
The figure uses federal data for the "Leisure & Hospitality" sector, rather than the National Oceanic and Atmospheric Administration's Economics: National Ocean Watch (ENOW) ocean economy data, to measure quarterly levels of employment, which are not available in the ENOW data. The Portal does contain an Ocean Economics GDP map layer based on ENOW data. Users can click on counties for information including the total number of ocean-dependent jobs, businesses and wages, and a link for more information on the ENOW Explorer site.
The report and map data was prepared for MARCO by the Middlebury Institute of International Studies at Monterey.
Users may also browse the Portal's Recreation theme for maps showing which coastal areas visitors like to go for activities like beach days, recreational boating, wildlife sightseeing and whale/dolphin watch tours, surface water activities like surfing, and more.
Share this story