Summer Updates: Lightering Zones, U.S. Wind, Port Tonnage, Cape Fear Anchorage Areas
We're pleased to announce the following recent data additions and updates to the Portal.
Lightering Zones: Lightering is the transfer of oil or hazardous materials in bulk from one vessel to another to reduce vessel draft prior to entering a port. A lightering zone is an area were lightering is either designated, prohibited, has traditionally occurred, or where restrictions are in place to ensure or constrain lightering activities. Data provided by MarineCadastre.gov.
U.S. Wind: A project envelope has been added to the "Offshore Energy Projects Under Review" folder in the Renewable Energy theme.
Principal Ports & Tonnage: This map shows the top 150 U.S. ports based upon total annual tonnage. Click on any port for statistics including its total commodity tonnage, its imports and exports by tonnage, and more. Data provided by MarineCadastre.gov and NortheastOceanData.org.
Anchorage Areas – Cape Fear River Approach, North Carolina: This map has been updated and shifted from the "USCG Proposed Areas and Studies" dropdown folder into the main Maritime theme to reflect the Coast Guard's designation of the area as an active anchorage effective July 21, 2022. The map layer now automatically activates when the Anchorage Areas layer is activated.
Questions? Contact us at portal@midatlanticocean.org.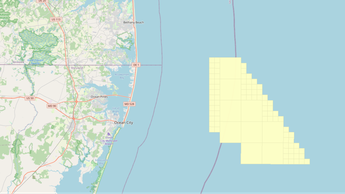 Share this story