Discovering New Territory and Gathering New Data with the Okeanos Explorer
In celebration of the 200th anniversary of the Star-Spangled Banner, the National Aquarium hosted the National Oceanic and Atmospheric Administration's exploration ship, the Okeanos, from Sept. 10-14, 2014.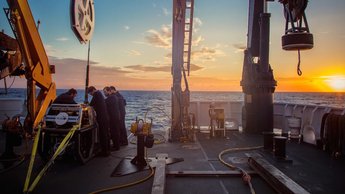 The Okeanos arrived at the Aquarium's dock shortly after completing the first of a series of cruises to capture high-resolution video of Mid-Atlantic canyons — many of which remain unexplored

During last year's mission in July the public connected to the live high definition video stream 60,000 times to enjoy a rare opportunity to see deep-sea creatures and corals, sharing the excitement of groundbreaking exploration and discovery with some of the world's leading marine scientists.  When the Okeanos Explorer's remote operated vehicles are deployed, the ship's telepresence dome connects the ship with a large shore based science team who help guide the missions and provide the public with informative commentary in real time as discoveries happen.
While the Okeanos was in port, the Mid-Atlantic Ocean Data Portal team was on hand to meet with the public, provide demonstrations of the state-of-the-art Portal, and answer questions about the role of data visualization as it relates to understanding the interplay of Mid-Atlantic canyons and reefs with other ocean and coastal uses.
The Portal team, along with our partners, is currently working to add new data to Marine Planner – bringing greater depth to our understanding of coastal and ocean resources. The potential impact of the Okeanos expedition to our work is significant: With Okeanos' real-time mapping and data gathering, the ability to integrate this information with other data in the Portal, deliver it to the public, and apply it to real world planning scenarios Okeanos' efforts are brought full circle.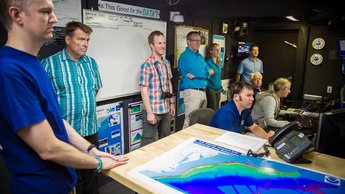 The Portal currently includes a new map layer showing where deep sea coral habitat is most likely to occur based on very limited past coral observations. The new data being collected by Okeanos Explorer and other NOAA and BOEM funded missions will provide a great leap forward in deep sea coral mapping. By layering in more ecological information at all depths we gain an understanding of how underwater geographies contribute to the health of aquatic communities and environments and how future planning activities and projects may impact those resources.
Check out this highlights video from last year's Okeanos expedition and click here to see a live feed of their survey of the Atlantic canyons and sea mounts.
Share this story