Virginia Blue Crab, Oyster and SAV Sanctuaries Added to Marine Planner
Three map layers showing sanctuaries for blue crabs, oysters and submerged aquatic vegetation in the Chesapeake Bay and along Virginia's shoreline have been added to the Portal's new Conservation theme. The data was provided by the Virginia Marine Resources Commission (VMRC) through its Chesapeake Bay Map web app.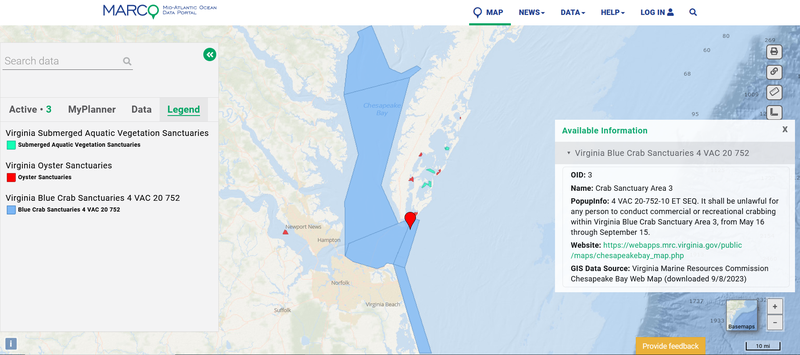 The Virginia Blue Crab Sanctuaries 4 VAC 20 752 layer shows areas where it is unlawful for any person to conduct commercial or recreational crabbing at designated times of year. Users can click on the areas for a pop-up displaying the dates when crabbing is prohibited.
The Virginia Oyster Sanctuaries layer shows areas that are closed to the harvest of oysters. It is also unlawful to possess any gear that could be used to harvest shellfish on public or unassigned oyster grounds within 100 feet of the sanctuary areas.
The Virginia Submerged Aquatic Vegetation Sanctuaries layer shows areas which were designated to restore SAV and protect it from loss. SAV serves as a critical habitat for marine life and provides a variety of ecological benefits, including stabilizing sediments, attenuating wave energy, reducing water column turbidity, recycling water column nutrients, adding oxygen to the water, and combatting ocean and coastal acidification.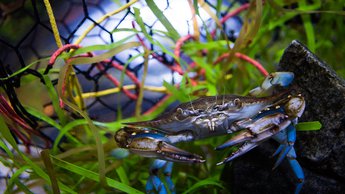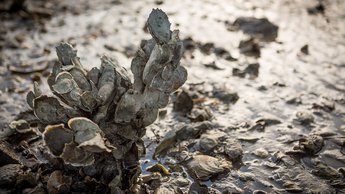 The maps can be found by clicking on the "State-Designated Areas" dropdown in the Conservation theme. Additional maps showing conservation measures enacted in Mid-Atlantic states will be placed in this collection in the future.
The three map layers were downloaded for visualization on the Portal on Sept. 8, 2023, and represent the most current sanctuaries data as of that date. Although MARCO will continue to update the data, users are encouraged to visit the VMRC web app to ensure they're viewing the most up-to-date information.
Share this story