8:02 a.m. | Point Pleasant Beach, New Jersey
Now observe as the map transitions to 2011-14 data. A clear thinning of activity is visible in previous hotbeds to the south, such as areas off the Virginia-Maryland Eastern Shore and the Delaware Bay. The image below shows the fishing maps from the two time periods side by side.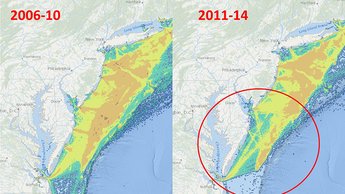 As an experiment, the Ochses recently returned to the areas they traditionally fished close to the Manasquan Inlet to see if the scallops had returned. After eight hours, they came up with 20 lbs. of meat. On a good day in the past, they could have found 1,000 lbs. in that time, Kenny said.

Now in their 60s and long-established in the area, the Ochses say the ship has long since sailed for relocating their operation north. They are also concerned for the future of their industry due to another threat that there's no moving away from – ocean acidification.

Scientific efforts around the world are focusing on what will happen as the oceans continue to absorb higher concentrations of CO2 being produced through human activities. The gas is changing PH levels in the water, making them more acidic, which impedes the calcification process necessary for organisms like scallops and clams to form their shells. In this region, MARCO recently partnered with the Mid-Atlantic Regional Association Coastal Ocean Observing System (MARACOOS) to form a Mid-Atlantic Coastal Acidification Network (MACAN) dedicated to developing a better understanding of the science of ocean acidification, predicting the consequences for marine resources, and devising strategies that enable communities and industries to better prepare and adapt.
8:37 a.m. | About 10 Miles Northwest of Manasquan Inlet, New Jersey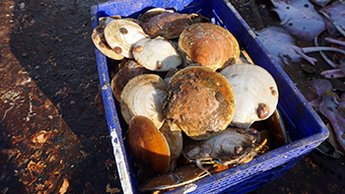 The Ochses recall commercial fishing being a much more wide open business in the early days. There were few rules regarding where you could go, how much you could fish, what types of gear you could use at sea. Pollution was rampant.
"The ocean is so much cleaner than it was when I was a kid," Art said. "There are way more fish. There are way more of all kinds of sea creatures, so we've made some big improvements."
National Marine Fisheries Service data indicates that the Atlantic sea scallop fishery is indeed in good condition, with populations above target and fishing rates at a healthy level.
Overall, the Ochses say they appreciate the order that has been brought about by regulations introduced by government agencies and fishery management councils over the last few decades. In the past, they sailed 250 days a year because all of their competitors were doing it. Today their permit caps them at closer to 150 days per year, yet they're catching more scallops in the shorter window of time. They believe stocks have become more plentiful now that there are measures in place such as zones that are placed off limits for a time to allow scallops to naturally rebound, or rules that mandate nets with holes large enough to allow baby scallops to slip through. 
The Ochses believe licensing regulations have shifted commercial scalloping away from smaller independent operations like their own to larger companies. Several years ago, to prevent overfishing, a cap was placed on the number of operators on the East Coast, locking in pre-existing owners like the Ochses while halting startups. To launch a scallop operation today, you'd not only have to buy a vessel and equipment, but buy a license from an owner exiting the business – a property that Kenny said could be worth millions. He believes there'd be little chance he could break into the business as an owner-operator today.

9:43 a.m. | 25 miles Northwest of Manasquan Inlet, New Jersey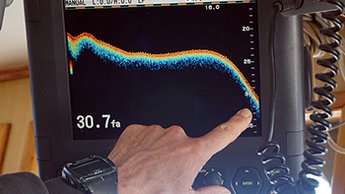 After displaying a flat plain for two hours, the depth sounder shows a sudden roller coaster-like drop off. The Christian and Alexa is crossing over a depression leading to the Hudson Canyon. Moments later the line will spike back up again.
The captains are ideally looking for a flat but slightly jagged line that is typical of a pebbly sea floor. Scallops like those conditions because they can take refuge in the naturally occurring seams, Kenny said.
Technology has made their work more efficient and comfortable. The Christian and Alexa is like a home on the water, complete with two flatscreen satellite TVs, a fully equipped kitchen, a bunkroom with several beds, a shower, and a personal bedroom for the owners. Built in 1988 and named after the brothers' children, the Christian and Alexa stands out among the other ships in its port with its bold black-painted body, white stripes and markings.
The Ochses baked a fresh ham and a tray of macaroni and cheese in the oven for the seven-man crew to serve themselves when time permitted. Crew members take turns taking extended breaks that allow them to catch a nap or watch TV over a hot meal.
One of them is Michael Newman, who grew up near the Christian and Alexa's port in Brielle, New Jersey, and joined the crew a few years ago after working on a scallop ship in Cape May. Newman sits down at a breakfast nook in the ship's kitchen area with a plate of food and glimpses up at the TV. It's a few weeks after Donald Trump's surprising victory in the presidential race and the nation is still abuzz. "What did you think of the election?" he asks a visitor. For his part, Newman chooses not to get caught up in the hype — whichever candidate won, he doesn't believe it would make a major difference. Following his meal, he returns to work, clearing the way for another crew member to eat.
Kenny believes that amenities like those found on the Christian and Alexa not only make a trip more pleasant, but can extend careers. He recalled an incident in his earlier days when a fisherman asked him to guess how old he was.
"I guessed 65," he said. "He was actually 42."

10:42 a.m. | 40 miles Northwest of Manasquan Inlet, New Jersey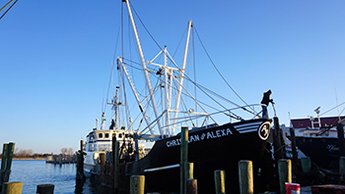 The boat still headed out to sea, the conversation turns to Superstorm Sandy. The Ochses stayed aboard the Christian and Alexa throughout the storm in Point Pleasant Beach. They wanted to be there in case something happened to the vessel.
Aboard a ship that size, they said the wave action and wind was barely noticed. They both recalled a massive tide floating them up and down in the total darkness (power was lost in all the buildings around them but the other ships). Then the sun came up like a curtain to reveal a scene of catastrophic devastation.
"Just that one tide – in and out – did all of that destruction," Art said. "I've never seen anything like it."
In the first days after the storm, the ridging in the sand caused the dredges to rattle in a way that was startling to the longtime fishermen. They believe Sandy's disruption to the sea bottom made an immediate, noticeable difference on the fishing. Since that time, they said their tows have pulled up a smaller percentage of bycatch like sand dollars along with their scallops.

11:49 a.m. | 30 Miles South of Fire Island, New York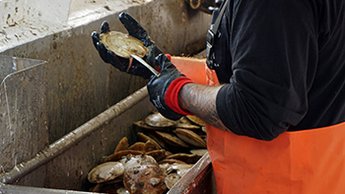 After four hours at sea, the crew has reached its go-to spot. It's time for the first tow of the day.
Nets are lowered on both sides of the vessel and dragged along the floor for about an hour. When the nets are finally hoisted up and thud down to the deck, they reveal about nine bushels of scallops, along with some skates and other fish which they promptly throw back.
It's a lighter haul than hoped for. The crew will continue the tows until they've reached about 120 bushels, which would get them to their 600-lb. quota for the day. The map above shows scallop stocks by meat weight from 1966-2014 NOAA dredge surveys.
While they wait for the next tow to finish, the crew gets to work on shucking the scallops and packing away the meat.
5:28 p.m. | 30 Miles South of Moriches Inlet, New York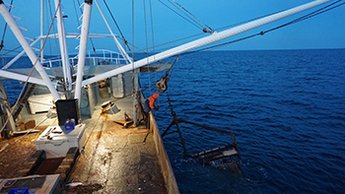 The crew's sixth haul of the day is its best – about 25 bushels. They've been averaging about a dozen per tow all day.
This late fall time of year is the toughest for scallopers, Art noted. The meat inside of the shells is lighter, so it takes more bushels to reach their target weight.
This area south of Long Island had been treating them well lately. Typically, they will keep fishing an area until the yield is no longer good, and then it's time for exploring.
The map above shows VMS scallop ship concentrations from 2011-14 with traffic faster than 5 knots excluded to best reflect where fishing activities took place, rather than transit from destination to destination.
11:04 p.m. | 40 Miles Southwest of Shinnecock Inlet, New York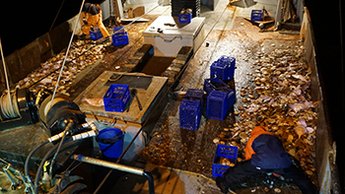 The group pulls up its 11th and final haul of the trip. The sun has long set on the Christian and Alexa and the crew is now working by the light of spotlights.
Asked to rate the day's fishing, Art replies, "Not too exciting. A little disappointing."
He will now turn the ship around for the nearly 6-hour ride back to Point Pleasant Beach. In the meantime, the crew will shuck, bag and refrigerate the scallops and wash down the deck.
The map above shows the Portal's "Communities at Sea" dredge gear concentrations from 2011-15. The data was compiled from vessel trip reports completed by commercial fishermen, and fine-tuned with input from fishermen from Long Island through Virginia.
Users can click on any point in the map for a pop-up window showing which ports people traveled from to fish those areas. You can also click on the landside port locations for information about how the community's fishing activity. The data shows that from 2011 through 2015, 4,709 dredge fishing trips originated from Point Pleasant, nearly 10 percent of the region's total.
4:37 a.m. | 7 miles Northeast of Manasquan Inlet, New Jersey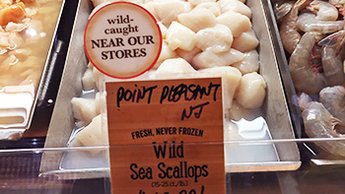 Buzz … Ding … Buzz … A cell phone rattles to life with a burst of emails, texts and app notifications. Land is drawing near.
Beyond the silent black stretch of ocean, a long string of lights dot the Jersey Shore. If you know these towns, you can make out the shapes of some of the major landmarks in the darkness – the former Essex & Sussex grand hotel in Spring Lake, Convention Hall in Asbury Park. A pair of flashing red and green beacons to the south stand out. They are a guide for mariners approaching the Manasquan Inlet.
With Kenny and most of the crew asleep in their quarters, Art steers the Christian and Alexa to port for the conclusion of its 22-hour voyage. The sun had just risen when the crew jumped aboard the morning before with their sleeping bags and fresh changes of clothes. It will almost be ready to rise when they get in around 5:30 a.m. On other days the vessel would return to sea in a few hours, but with gale force winds and rain in the forecast, the brothers decide to stay in.
Once the ship reaches Point Pleasant, the crew will unload their scallops to a refrigerated warehouse at a nearby co-op for sale on the open market. Scallops are a commodity, with prices that fluctuate depending on supply and demand. On this day, they're expected to sell for between $9 and $10 per pound.
A few miles away, a Wegmans grocery store has a fresh tray of scallops on display for $19.99 per pound. A sign proudly boasts the food was "Wild Caught NEAR OUR STORES … POINT PLEASANT NJ." A customer orders a half-pound. His drive home will mark the last leg of a dock-to-plate journey that likely involved many hours of tows and toil by the crew of the Christian and Alexa.
Story by: Karl Vilacoba, Monmouth University Urban Coast Institute. He can be reached at kvilacob@monmouth.edu.