Map Shows Potential Atlantic Coast Shipping Safety Fairways Proposed by Coast Guard
Portal users can now view and analyze a network of Atlantic Coast shipping safety fairways that are under consideration by the U.S. Coast Guard. The interactive Potential Fairways map, which can be found in the USCG Proposed Areas and Studies collection in the Portal's Maritime theme, shows a potential system of fairways intended to ensure that traditional navigation routes are kept free from obstructions that could impact navigation safety.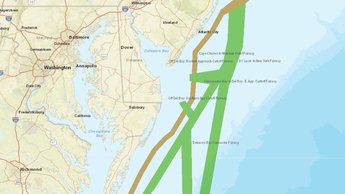 The Coast Guard's 2015 Atlantic Coast Port Access Route Study (ACPARS) identified nine primary navigation safety corridors that may be suitable for designation as fairways. Three of these are coastwise primary navigation safety corridors which would most likely be used by smaller and slower-moving vessels. Initial evaluations suggest that the highest conflict between transiting vessels and alternative undertakings in offshore regions — such as resource exploration and development, production of renewable energy, environmental preservation and protection, and resource conservation and defense — are likely to occur in these near-coast regions.
Six offshore fairways were also recommended in the ACPARS final report. The offshore fairways are most likely to be used by larger and faster-moving deep-draft vessels.
The map depicts deep draft lanes in green, tug-tow extensions in brown, and tug-tow extensions in orange. The names of each corridor (e.g. St. Lucie to Chesapeake Bay Offshore Fairway, Long Island Fairway) are labeled on the map or can be found by clicking on a fairway for a pop-up window. 
On June 19, 2020, the USCG released an advance notice of proposed rulemaking seeking public comments on the potential fairways. Comments must be received by the Coast Guard by August 18, 2020. For more information on the fairways or submitting comments, view the notice in the Federal Register.
The Potential Fairways layer is the latest in a series of data and maps published collaboratively by the Coast Guard and Mid-Atlantic Regional Council on the Ocean (MARCO) to improve public awareness of ongoing studies and proposed navigation safety measures in the region. Click here to learn about recent Port Access Route Study (PARS) areas maps on the Portal or here to view our January and June webinars with Coast Guard personnel dedicated to PARS for the Chesapeake Bay and New Jersey Seacoast/Delaware Bay approaches.

Share this story