View Monthly and Annual Offshore Wind Speeds
Learn which offshore areas tend to experience the strongest winds each month or all year round with a collection of 13 new maps on Marine Planner. 

Both the Monthly Offshore Wind Speed Slider and Annual Offshore Wind Speed layers cover the full Atlantic Coast and extend from the shoreline beyond the continental shelf break in the Mid-Atlantic. The annual and monthly maps were created with data from the National Renewable Energy Laboratory's WIND Toolkit and first published by MarineCadastre.gov.  
Users can click a button to automatically cycle through the monthly wind maps or manually toggle from month to month. After selecting the Monthly Offshore Wind Speed Slider in the Oceanography theme, click on the View Slider button, and then either click the play button to animate the map or slide the toggle bar to the month of your choice.
The Annual Offshore Wind Speed map replaces the previously published Wind Speed map that was housed within the Offshore Renewable Energy theme. The new layer is based on seven years of NREL wind speed data.
For more information on these maps, visit our Data Catalog summary.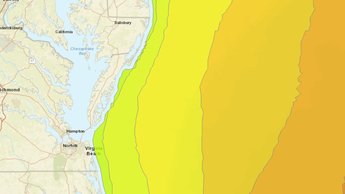 Share this story