Seafloor Habitat Theme Launched with New Modeled Shoals Map
A new theme has been created to house and provide more direct access to the Portal's growing collection of Seafloor Habitat maps, recognizing the importance of understanding seafloor characteristics as an important driver of ecological processes and an important consideration in planning, management and siting decisions.
The Portal's collection of seafloor maps is set to expand significantly in 2021. Among the first additions is a Modeled Shoals in Federal Waters map, developed by BOEM and NOAA, showing the predicted locations of sandbanks off the Mid-Atlantic coast.
Maps in the new theme depict and characterize the Mid-Atlantic's seafloor terrains from a marine ecosystem perspective; additional layers depicting sand and sediments as potential resources for human/industrial use (for example, to support beach nourishment projects) can be viewed by clicking on the "Sand" dropdown in the Maritime theme.
For now, the majority of the map layers in the initial Seafloor Habitat lineup were shifted from the Oceanography theme. Below is a list of maps included in the Seafloor Habitat theme as of February 2021:
Bathymetry dropdown:
Regional Bathymetry
NCEI Multibeam Archive
NCEI Topographic and Bathymetric Mosaic
NOAA NOS Hydrographic Survey Data
OKEANOS Explorer Bathymetry
Seabed Forms and Sediments dropdown:
Seabed Forms
Seabed Mobility
Seabed Shear Stress
Soft Sediments (by Grain Size)
Modeled Shoals in Federal Waters (*also available in Maritime theme)
Artificial Reefs (also available in Fishing theme)
Artificial Reefs: NY Proposed Expansions and New Sites (also available in Fishing theme)
Submarine Canyons
Undersea Features Place Names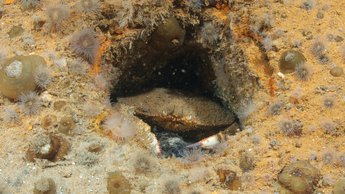 About the Modeled Shoals Map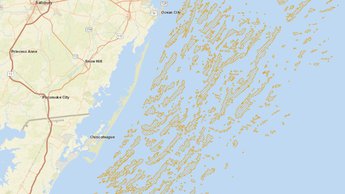 The Modeled Shoals in Federal Waters map was previously published by the Bureau of Ocean Energy Management (BOEM) Marine Minerals Information System. It shows the locations of likely sandbanks in waters east of the U.S. Submerged Lands Act Boundary (3 nautical miles from shore) to a depth of 50m in the Atlantic Ocean. Due to the important role shoals play both as essential fish habitat and as sand resources for coastal resilience and beach replenishment projects, this map layer is included in the Seafloor Habitat theme as well as the Maritime theme's Sand dropdown.
Share this story