Package Multiple Shapes as One Drawing with Upgraded Tool
Registered Portal users can now save multiple shapes as one file with the improved Drawings tool, accessible via the MyPlanner tab of Marine Planner.
Previously, users had to create and save separate drawings to illustrate a subject that applied to multiple areas – for example, a series of fishing areas or a cluster of discoveries made on the Portal's data maps. Now users can create, save, recall and export multi-part drawings with just a few clicks.
Making a drawing in Marine Planner is as easy as playing connect the dots. Just follow these few simple steps:
Select the MyPlanner tab in Marine Planner and click +NEW next to the Drawings heading.
Click Draw Shape. Point the cursor to the spot where you'd like to start your drawing and click on the map. Extend the line to the next spot you'd like to use as a boundary and click on the map again. Continue clicking spots to create your desired shape and double click when you've finished. Note that you can pause drawing and zoom in or out as needed to ensure the accuracy and placement you need.
Your drawing will now appear on the screen. Click Next if you're satisfied with the shape, Edit Shape if you'd like to make adjustments, or Add Shape if you'd like to create more shapes for your drawing. To add shapes, repeat steps 1 and 2.
Give your drawing a name and add any notes you'd like to the Description window (optional). It's a good practice to include details like your drawing creation date and brief notes explaining the drawing's meaning or purpose. Click Save when finished.
To activate your shape(s) in future sessions, click Drawings in MyPlanner for a dropdown list of all of your files. You can also edit a drawing at any time by clicking the gear icon to the right of its title.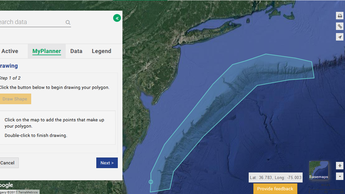 Share Your Work
Your drawings will not be visible to other users unless you choose to take advantage of the Portal's many sharing options. You can make your work available to fellow members of any Portal Group you've joined by clicking on the gear icon and selecting Share.
Drawings can be downloaded in four file types — Shapefile, GeoJSON, WKT and KML (Google Earth) — by clicking on the gear icon and selecting Export. This function makes it possible for users to conduct their own participatory mapping projects and share information about important ocean places using common GIS-based software systems, database programs, mapping applications such as Google Earth, and more. More information on each of the four file types can be found by clicking on the green question mark icon next to each item.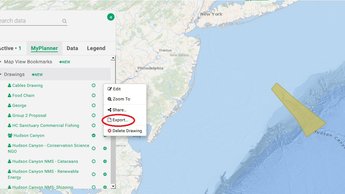 Share this story